Contact Us
The Service Desk provides free first level troubleshooting for account, programs and systems at CUIMC via phone, email, our remote support tool, and chat. Students may also schedule remote support appointments.
Hours of Operation
Phone Support
Extension 5-Help (212-305-4357), option 5.
Monday - Friday: 7:30 a.m. to 7:30 p.m.
Saturday: 9 a.m. to 5 p.m.
Sunday: 10 a.m. to 6 p.m.
Email
Chat Support
Monday - Friday: 10:00 a.m. to 4:00 p.m.
Live Chat via the "Get Help" Service Portal
Chat is available for any CUIMC faculty, staff, or student to use from Monday through Friday between 10am and 4pm.  To use it: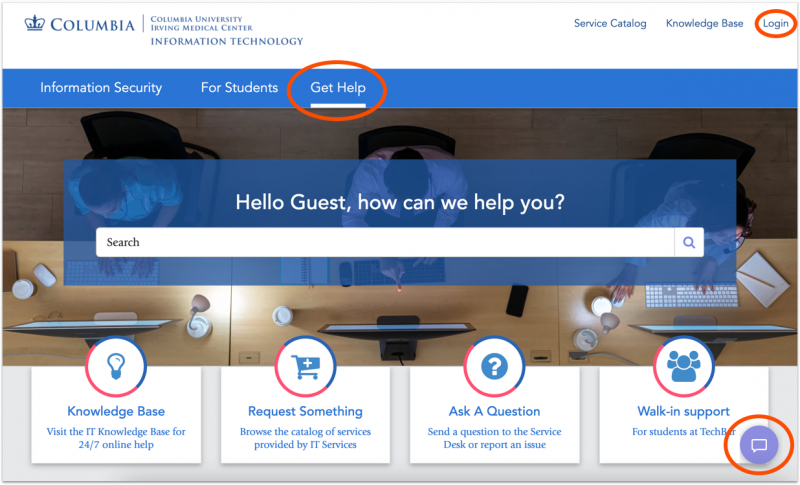 Select Get Help from our main menu
Select Login in the upper right (from a mobile device you may need to select Profile first) and login with your UNI account
Click the purple chat icon in the lower right corner 
How can I create a ticket?
For help managing tickets, requests, and approvals: https://it.cuimc.columbia.edu/my-tickets
Response time for tickets submitted via email is 24 - 48 hours. For urgent issues, please call us at 212-305-4357, option 5.
TechBar Student Walk-in Desk
Monday - Friday: 9 a.m. to 7 p.m.
Saturday: 9 a.m. to 5 p.m.
Sunday: 10 a.m. to 6 p.m.
701 West 168th Street
2nd Floor Service Desk
United States
Open location in Google Maps
Students may use the walk in desk on the 2nd floor of the Hammer Health Sciences Building for computer and software support.
Sign in is required via QR codes posted in Hammer 1st and 2nd floors and most printer locations, or the sign in computer located at the Tech Bar. You can also select the Walk-in support icon from the Get Help portal to sign in or view your place in the queue.
To prevent overcrowding only 3 signed in people may be in the Tech Bar area at a time.
Faculty and staff may only use the walk-in desk for account troubleshooting and basic questions regarding available technical resources. Computer and software troubleshooting for faculty and staff cannot be performed at the walk-in desk, instead please call or submit an online request first for assistance; a field technician will be dispatched if needed.